My name is Michael Feinberg and I am the AAO Political Action Committee Board Member for the PCSO.
The AAOPAC raises congressional awareness of the AAO and the issues facing its members. It is committed to advancing bipartisan and substantive solutions to policy problems that affect our patients and our profession. The AAOPAC is not about personal politics of individual members, but rather the AAO's interests as a whole. And for orthodontists who have contributed to the AAOPAC, they are helping promote the AAO's interests at the federal level.
Here is how the AAOPAC works.
AAO members contribute to the AAOPAC.
The AAOPAC pools members' money and donates to federal candidates that support orthodontic issues.
Federal candidates use our contributions to get re-elected.
We form relationships with the politicians we donate to and they continue to support issues important to orthodontists.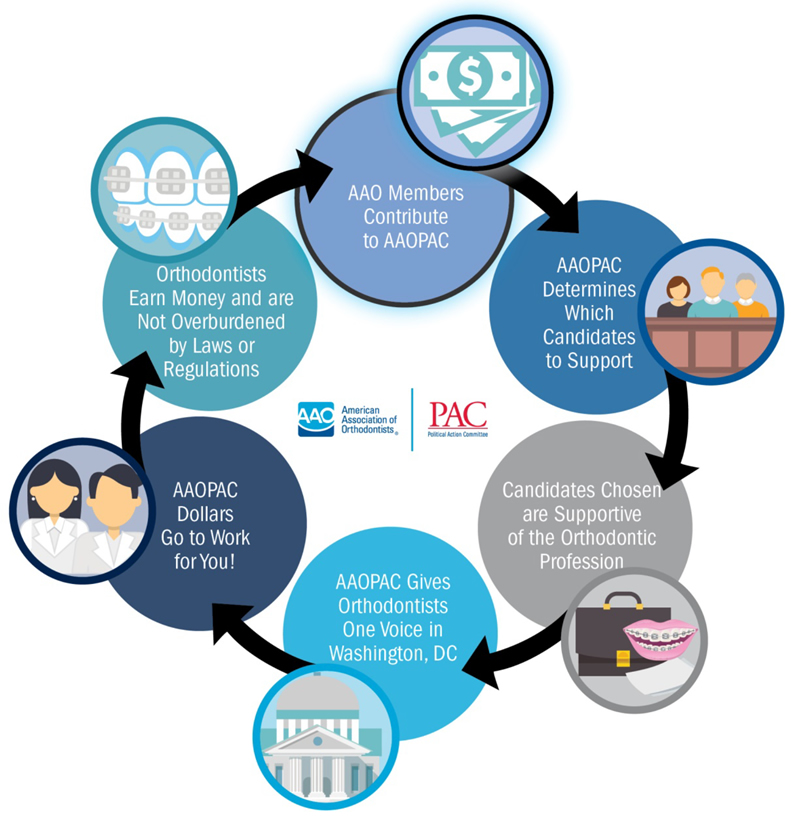 The AAOPAC is having an impact. For example, the AAO was successful this past year in helping delay the medical device tax for two more years. In addition, during the past year, the AAO has helped lead efforts to pass the "Responsible Additions and Increases to Sustain Employee (RAISE) Health Benefits Act of 2015" (H.R. 1185). This bill would significantly improve the Flexible Spending Account (FSA) benefits offered by many U.S. employers. FSA accounts allow consumers to set aside pre-tax dollars to pay for medical and healthcare expenses not covered by insurance, including orthodontic treatment. We are also supporting legislation to help with student debt and further support small businesses.
As it stands now, the PCSO, the largest region of the AAO constituencies, is ranked #4 among all AAO constituencies for AAOPAC contributions.  
You can learn more about the AAOPAC by clicking here. Please also feel free to contact me if you have any questions.
Cheers,
Michael
Michael Feinberg, DDS, MS
PCSO AAOPAC Chair